Navas circuit: towards food sovereignty
For a global transformation of the system, from field to plate
janvier 2019
Fondation Daniel et Nina Carasso (FDNC)
Towards a Europe of territorial food systems?
This study is extracted from the analysis of twenty-two French and Spanish projects related to new food models, all highlighting different challenges.
In Spain, governance is being built, while French food systems are looking for solutions to change scale. But in both countries, accessibility remains the weak link. In Spain, the city of Navas combines celebration with awareness raising and training. It is diversifying the means of communication: videos, articles, games… It mobilises well-known local personalities to occupy all the conversations. The creation of a graphic brand identifies local products and associated activities. In this way, Circuit Navas' strategy aims to raise awareness among citizens, strengthen the productive sector and establish governance.
Navas, Spain
Navas is a rural and agricultural municipality. It is characterised by an important production of cereals and intensive livestock farming systems. In recent years it has undergone a generational change. The limits of the dominant conventional food model have become apparent, leading to the emergence of many agricultural initiatives. Wine, olive trees, beekeeping, production systems are mainly based on organic farming. Interested in agricultural biodiversity and the preservation of different local characteristics, producers are growing indigenous varieties.
The marketing of the products is carried out in short circuits.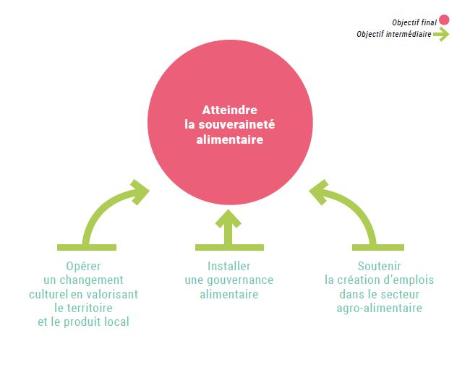 The promotion of the local product, the territory and gastronomy
The origin of the Circuit Navas project is based on the town council's desire to support and promote initiatives to promote the transition towards a more sustainable food system. Its objective is to create a sustainable governance structure with a roadmap defined by all stakeholders. Navas town council is the main driving force behind the Circuit Navas project. It seeks to mobilise all stakeholders, both public and private. In order to anchor the project's activities over the long term, it has created the post of Food Sovereignty Project Manager. The facilitator works in collaboration with several expert organisations. Arran de Terra is an association recognised in particular for its activities on local agriculture and agro-ecology. Its action aims to boost economic activity and job creation in the agri-food sector. The Llaurant Barcelona platform supports the city council in the creation of its Food Council and the drafting of the food strategy. The Menjadors Ecològics association contributes its experience in the food transition. It promotes the consumption of organic and local products, especially vegetables, in the canteens of retirement homes, schools and restaurants. Several other actors in the area participate in the Navas food sovereignty project: the town's retirement home, schools, shops, restaurants and of course farmers. The city also works in cooperation with other municipalities and with the University of Vic, within the framework of the Network for Food Sovereignty of Central Catalonia.
Références