The strategy of Valladolid and neighbouring municipalities
Consolidation of the participatory process and the alliance for food sovereignty
January 2019
Fondation Daniel et Nina Carasso (FDNC)
Towards a Europe of territorial food systems?
This study is extracted from the analysis of twenty-two French and Spanish projects related to new food models, all highlighting different challenges.
In Spain, governance is being built, while French food systems are looking for solutions to change scale. But in both countries, accessibility remains the weak link. In order to develop its agri-food strategy, Valladolid is relying on the consolidation of the participatory process, which is essential for building a food alliance.
Valladolid, Spain
In the Castilla y León region, the city of Valladolid has around 300,000 inhabitants. Agricultural production is increasingly in the minority in the region, due to a shift towards neighbouring municipalities in recent years. Agriculture in the Valladolid region consists mainly of cereal and sugar beet production. Within the city, the remains of the food processing industries that once exploited and processed these crops are still present. Its economy today is sustained by industrial activities related to textiles, chemicals and the automobile industry. The urban municipality of Valladolid, known as CUVa, comprises the city of Valladolid and twenty-four municipalities.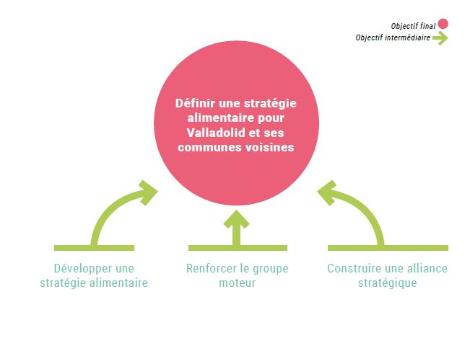 An alliance for food sovereignty
The year 2017 marks the constitution, through a framework agreement, of the Valladolid Alliance for Food Sovereignty. Built in order to work towards a sustainable and local food-processing model, this alliance will continue to develop and implement Valladolid's food strategy. The objective is to continue the activities developed between 2017 and the beginning of 2018. In particular, a research protocol has been drawn up, which has led to the development of a diagnosis of Valladolid's agri-food system, as well as a participative approach to draw up a global strategy document. The city's food strategy therefore consists of consolidating the work already carried out.
Valladolid City Council is leading the food sovereignty process. It applies the strategy and draws up the action plan. The Entretantos Foundation is in charge of managing the project. It ensures the dynamics and animation of the planned participatory processes. The University of Valladolid's Research Group on Energy, Economy and Systems Dynamics (GEEDS) provides scientific expertise to advise and supervise the process. It provides factual elements and research results on the food system in Valladolid. It also participates in its monitoring committee.
Sources