Izmir - Progress rewarded at regional level
Assessment of the territories' climate action
2018
Association Climate Chance (Climate Chance)
Since 2015, the Climate Chance Association has been involved in the mobilization in the fight against climate change. It is the only international association that proposes to bring together on an equal footing all non-state actors recognized by the UN. In order to strengthen their action and to give credibility to the climate stabilization scenarios, the Climate Chance Association launched in 2018 a Global Observatory of Non-State Climate Action, which aims to explain the evolution of greenhouse gas emissions, by crossing national public policies, with sectoral dynamics, private actors' strategies, local public policies and actions undertaken by local actors. In order to analyse the coherence of local public policies, Climat Chance proposes an assessment of « territorial mobilisations » through selected examples of cities and regions. Here, Izmir.
A member of the Covenant of Mayors since 2015, the Municipality of Izmir is committed to reducing its emissions by 20% by 2020 compared to 2014. This is an ambitious challenge for Turkey's 3rd largest city, which has a high population growth and urbanisation rate. Achieving this objective will require modernizing the city's public transport system and increasing the share of renewable energies in its energy mix. The 2014-2023 regional plan drawn up by the Izmir Development Agency (IZKA) integrates these imperatives. Izmir has been awarded the «  Istanbul Award for Environmentally Friendly Cities ", rewarding the commitment of Mediterranean coastal cities to quality of life and sustainable development. This award is part of the «  Mediterranean Strategy for Sustainable Development 2016-2025 ". (MSSD), which aims to harmonize municipal environmental policies at the regional level.
MODAL SHIFT AND ELECTRIC VEHICLES AT THE HEART OF MOBILITY POLICY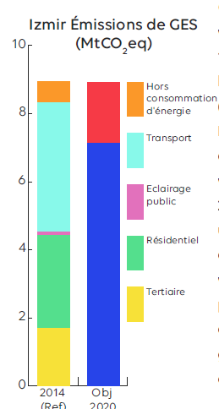 Transportation accounted for 54% of total GHG emissions in 2014. Since 2015, the municipality has therefore been implementing an ambitious plan to modernize its public transport network in order to compete with car travel and relieve congestion on peripheral roads. A new high-speed line (Izban) was added to the metro network in 2010, linking the airport to the city centre in less than 30 minutes. As part of its « Green Cities » programme, the European Bank for Reconstruction and Development granted a €80 million loan in 2018 for the construction of a new 7.2 km metro line at an estimated total cost of €250 million, following the financing of 85 metro trains in 2014 (€23 million) and 3 new ferries in 2013 (€33 million). Izmir's « Green City Action Plan » aims to reduce GHG emissions from public transport by 15% (EBRD 2018). In addition, ESHOT, the public operator of the city's bus network, has introduced 20 electric buses, with a target of 400 vehicles by 2020. Finally, the city has implemented an active policy in favour of soft mobility through initiatives such as the creation in 2014 of a BISIM bicycle sharing system with 31 stations along the bay, or the extension in 2017 of its network of cycle paths from 39 km to 90 km. Izmir participated in the European Cycling Challenge 2016 and has the project to integrate the European cycling network EUROVELO.
A REBALANCING OF THE ENERGY MIX IN FAVOUR OF RENEWABLE ENERGIES HAS BEEN INITIATED.
The city of Izmir, like the rest of Turkey, is heavily dependent on fossil fuels, which account for 76% of its energy consumption. However, the Municipality of Izmir has been working since the 1990s to become a centre of innovation for renewable energy in Turkey, thanks to an attractive policy towards industries in these sectors (Ormat, Enercon, TPI) and a concentration of research institutes. A reform of the legislation on the regulation of the electricity market in Turkey in 2016, aimed at promoting clean energy on a national scale, has enabled the city of Izmir to set up several initiatives for the development of geothermal and wind power, with targets of 175,000 MW and 2,540 MW capacity respectively in 2023. Izmir will be the leading wind energy producing region in 2017 with an installed capacity of 1,333 MW out of the national total of 6,500 MW (Izmir 2017). Construction of a new waste treatment and recovery plant began in January 2018 in the north of the city. It has a capacity of 2,100 tons/day and has been carried out within the framework of the Urban Projects Finance Initiative (UPFI) supported by the Union for the Mediterranean.
Sources