Civil organisations and actors engaged on introducing changes in urban renewal projects and policies in East Central Europe cities
Krisztina Keresztély, 2016
GHETTOFEST, Czech Republic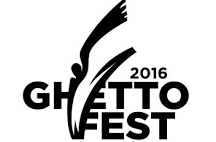 Ghettofest is a street festival organized in the notorious neighbourhood of Brno, the "Bronx", inhabited by diverse nationalities (Vietnamese and Ukrainians) and a majority of ethnic Roma people. The annual one-weekend program was organized first in 2012 as a cultural and a social project. The festival fits into the framework of a socially sensitive rehabilitation process and a cultural concept that aims to improve the conditions of this impoverished and stigmatized area of Brno. The objective is to bring people into Bronx, to create connections between local people and other citizens of Brno, in order to eradicate existing prejudices. The program is explicitly a non-Roma program, but a festival for all. Through the festival the organizers are aiming to change the emphasis of perceptions: from the criminalized, deteriorated old neighbourhood with high level of unemployment, to the culturally and historically diverse, open area of the city. The festival proved to be quite popular and attracted thousands of people. The success of the festival contributed to the changing expectations and mental schemes about the neighbourhood of the local municipal bodies and the police as well.
The Ghettofest is organized by Tripitaca association. The NGO was founded in 2009. Their activities include artistic and theatrical projects and institutional care aiming to help people living in broken families and for those who are struggling in their everyday life.
A VÁROS MINDENKIÉ / THE CITY IS FOR ALL, Hungary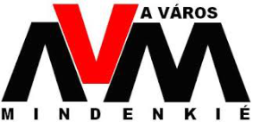 The informal group of The City is for All brings together homeless and formerly homeless people, people with housing problems and their allies with different social backgrounds. The group works in a democratic and participative way on a voluntary basis. Their aim is to fight for the right to housing and a just society and to prevent stigmatization and discrimination of homeless and poor people. Their far-reaching activity includes prevention of evictions, housing first programs, demonstrations and awareness raising campaigns, advocacy work on housing rights and a fair social housing sector. Their work also embraces drawing attention to and protecting people whose housing is threatened by gentrification, eviction because of rehabilitation projects and systemic housing discrimination connected to these urban processes.
ASOCIATIJA PENTRU TRANZITIJA URBANA / ASSOCIATION FOR URBAN TRANSITION, Romania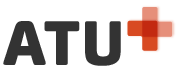 The Association for Urban Transition (ATU) is a think tank founded in 2001. ATU is based in Bucharest and they are dealing with diverse urban questions: development, urban policy, sustainable mobility, cultural heritage, public space, collective housing and social exclusions. Their approach to the city mirrors the diverse and broad membership of the organization, combining different fields of expertise from social sciences to planning and legal studies. Their aim is to create discourse between different stakeholders who are sharing urban space, thus the organization is for participation and transparent decision making. Their experience covers improvement of historical city centres and collective housing ensembles, public participation projects for community based urban development, mobility plans, audits and training courses of urban development. ATU is working as a consultation and educational group utilizing their knowledge for the service of cities and their inhabitants.
FRNTUL COMUN PENTRU DREPTUL LA LOCIURE / COMMON FRONT FOR HOUSING RIGHTS, Romania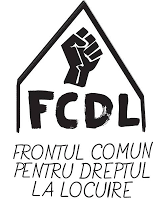 The Bucharest-based FCDL is a platform of housing activism and they fight for the right of housing on a national level. The organization was launched in 2014. Members of the platform are people who were evicted or whose housing is threatened and their work is based on the principles of solidarity and self-organisation. Their aims are to facilitate the self-organization of people whose housing rights are abused and to bring their issues on the public agenda of mass-media and different authorities. They see the effect of post-socialist neoliberal urban policies as generators of new social inequalities sometimes on an ethnic base. The platform's foundation is linked to the Rahova-Uranus neighbourhood where their social action could be partially successful. Several housing rights and anti-segregation organizations like The Desire Foundation (engaged in research, activism and advocacy work for the empowerment of the most disadvantaged), gLOC (umbrella organization for the integrated housing of Roma) and A-casa collective joined FCDL in Cluj. One of the issues FCDL is dealing with is the consequences of real-estate investment in gentrifying neighbourhoods and urban regeneration where the state or local government does not defend vulnerable groups living in the area.
Voir:
URBAN INCUBATOR ASSOCIATION, Serbia

Urban Incubator serves as a platform for projects initiating alternative urban development and improvement, participative planning methods, creative actions and social innovation. In 2014 selected projects are investigating social, architectural, historical, etc. aspects of the neglected and disadvantaged neighbourhood of Savamala, Belgrade. The projects connect local and international experts, activists, architects and residents of the neighbourhood. They aim to popularise the notion that cultural and social values should drive the revitalization of the quarter rather than commercial and real-estate business interests. The Urban Incubator is supported by the Goethe-Institut Belgrade.
MINISTARSTVO POSTORS / MINISTRY OF SPACE, Serbia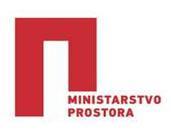 The collective was founded in 2011 with the aim of monitoring the developmental process of their home city Belgrade and the network of other Serbian towns. Their goal is to initiate greater citizen participation in urban planning and management processes through observing, analysing, commenting actual processes through promoting transparency, information availability in decision making. MP is also engaged in activist and educational work. The Ministry of Space gathers experts from the fields of urban planning, architecture, sociology, art and political sciences. Their activities include revitalizing a formerly neglected street as a street gallery, turning the former Yugoslav Inex Film's unused building into a community space with art, dance and circus studios. The group is also working on the revival of the run-down and abandoned Savamala quarter with the Urban Incubator Association, where they critically monitor the contribution of creative actors to the socially sustainable development of the area in cooperation with Zurich University of the Arts. The Planizacija Platform serves as a network providing information about urban development policies and spatial regulations.
Plus d'information: Plaquette de présentation
LOKIETKÁ 5, Poland

Lokietka 5 is an info-point and community space in the rehabilitation area of Nadodrze, Wroclaw. They are run by the Municipality of Wroclaw to help local entrepreneurial and social initiatives and connect them to each other and to the residents. They carried out an ethnographic research with the senior residents of Nadodrze in order to collect memories and the changes of the neighbourhood perceived by them. The organization worked out a social urban development plan for senior residents of Nadodrze as they reckon seniors and Council of Seniors as main partners in their work for the neighbourhood. They also provide a variety of services including conflict management training, lifestyle counselling, mediation but also green community programs like urban gardening, and organic market for other residents.
PRAWO DO MIASTA / RIGHT TO THE CITY, Poznan
The Polish right to the city movement first began in Poznan in 2007 Porozumienie Społeczne My-Poznaniacy ("Social Agreement – We, Poznanians"), bringing together different actors to work together for the local issues. In 2011 urban movements' congress initiated to step on the national level. In 2013 the Poznan movement took the form of an NGO named Prawo Do Miasta with dozens of permanent members. The NGO is gathering Poznan residents and people living in the agglomeration. Their aim is to work on a methodology to get local residents actively involved in urban politics and to create transparent and effective urban governance. With the connection between residents and local leaders and decision makers the population can control and achieve the desired changes: effectiveness, equal access to the city, sustainable development and fairness. The scope of their work includes local communication and information, urban budget, neighbourhoods, recreation, local council cooperation, transportation, image of the city and revitalization projects.
HABITAT FOR HUMANITY, Bosnia and Macedonia, Hungary, Poland, Slovakia, Macedonia, Romania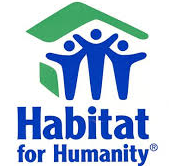 Habitat for Humanity is an international organization that aims to eliminate housing of poverty and homelessness. In Central-Eastern Europe, every organization focuses on specific problems of the countries in harmony with the general principles of HFH regarding the target groups and the sustainability of the programs. The original program aimed to build new homes, but this approach is adequate and financeable only in some countries of CEE. Programs focus on increasing the energy efficiency of run-down private housing and pre-fabricated multi-storey residential buildings by means of subsidies and commercial loans; others are engaged in improving life conditions in poverty housing and in many cases Roma settlements with cheap building material provision, microloans for home improvements, financial education. Work in Warsaw involves the renovation of a dilapidated street and improving the energy efficiency of social housing units. In Hungary and Bulgaria, HFH is especially engaged in more on advocacy work and research for a fair and inclusive housing policy.