Murcia - Successful efforts through energy efficiency
Assessment of the territories' climate action
2018
Association Climate Chance (Climate Chance)
Since 2015, the Climate Chance Association has been involved in the mobilization in the fight against climate change. It is the only international association that proposes to bring together on an equal footing all the non-State actors recognized by the UN. In order to strengthen their action and to give credibility to the climate stabilization scenarios, the Climate Chance Association launched in 2018 a Global Observatory of Non-State Climate Action, which aims to explain the evolution of greenhouse gas emissions, by crossing national public policies, with sectoral dynamics, private actors' strategies, local public policies, and actions undertaken by the actors of the territory. In order to analyse the coherence of local public policies, Climat Chance proposes an assessment of « territorial mobilisations » through selected examples of cities and regions. Here, the Spanish university city of Murcia.
Following its accession to the Covenant of Mayors for Climate and Energy, the Municipality of Murcia defined its Renewable Energy Action Plan in 2010. By 2015, the city had achieved its objective of a 20% reduction in GHG emissions by 2020 compared to 2007. However, emissions from industry in the region were excluded from this objective due to the limited influence of the municipal administration on them, which in 2007 was responsible for 13.7% of emissions. Thus, the Action Plan sets two main objectives : the reduction of air pollution and the use of non-renewable energies including energy production, mobility, and energy efficiency. In 2007, transport alone was responsible for 39.7 per cent of emissions, services 19.7 per cent, and residential 16.7 per cent. It should be noted that Murcia's GHG emissions were already 34.4% lower than the Spanish average in 2007.
PERFORMANCE DUE TO IMPROVED ENERGY EFFICIENCY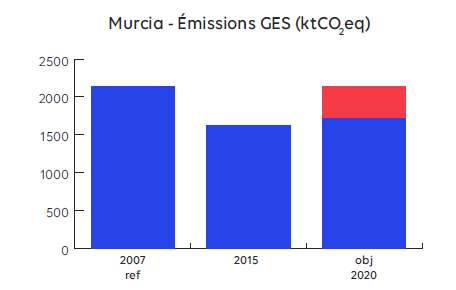 To reduce its GHG emissions by 20% by 2020, the municipality has targeted its actions on improving the energy efficiency of public buildings and facilities, private businesses and residential buildings. For example, light points in public lighting and signalling systems have been gradually replaced by LED technologies. All LED traffic lights are expected to reduce GHG emissions by 10,237 teqCO2/year. Measures have also benefited private individuals, particularly in the context of the Murcia Window Renovation Plan. A total of 460 families have benefited from the Plan, with total funding of €600,000. Measures to improve the energy efficiency of municipal buildings have led to the installation of 24 photovoltaic installations on their roofs, and the implementation of the SmartSpaces programme between 2012 and 2015 in 6 buildings, which has led to savings of 254 tCO2/year. Finally, presence detectors for lighting common areas of municipal buildings were installed. This measure alone is expected to reduce emissions by 49,956 tCO2/year.
DEVELOPING AN AMBITIOUS MOBILITY PLAN
In order to reduce its emissions in the transport sector, the municipality of Murcia has defined in its Renewable Energy Action Plan a number of measures regarding mobility, including a Sustainable Urban Mobility Plan launched in 2013. Through the Murcia Zona 30 plan and the creation of 95.5 km of «  zones 30  » in the city centre, this plan has made it possible to carry out a viability study on the installation of recharging stations for electric vehicles and the construction of park-and-ride facilities on the outskirts and near public transport stations. The two existing tramway lines were extended to cover 18 km and 12 km respectively. The extension of the tramway network is expected to reduce emissions by 7,204 tCO2/year.
Finally, the development of soft mobility is central to Murcia's new mobility policy, with the introduction of a free-access bicycle service «  MUyBICI ", initially comprising 60 stations and 600 bicycles, accompanied by the construction of a 551 km network of cycle paths. Initially, bike rental stations were set up in the city centre with a maximum distance of 300 m, or 4 min on foot, between each station, in order to guarantee the best possible coverage. The extension of the cycle path network is expected to reduce emissions by 5,330 tCO2/year. By 2015, bicycle use had increased by 5% in Murcia's modal share compared to 2007.
Sources