Our modes of action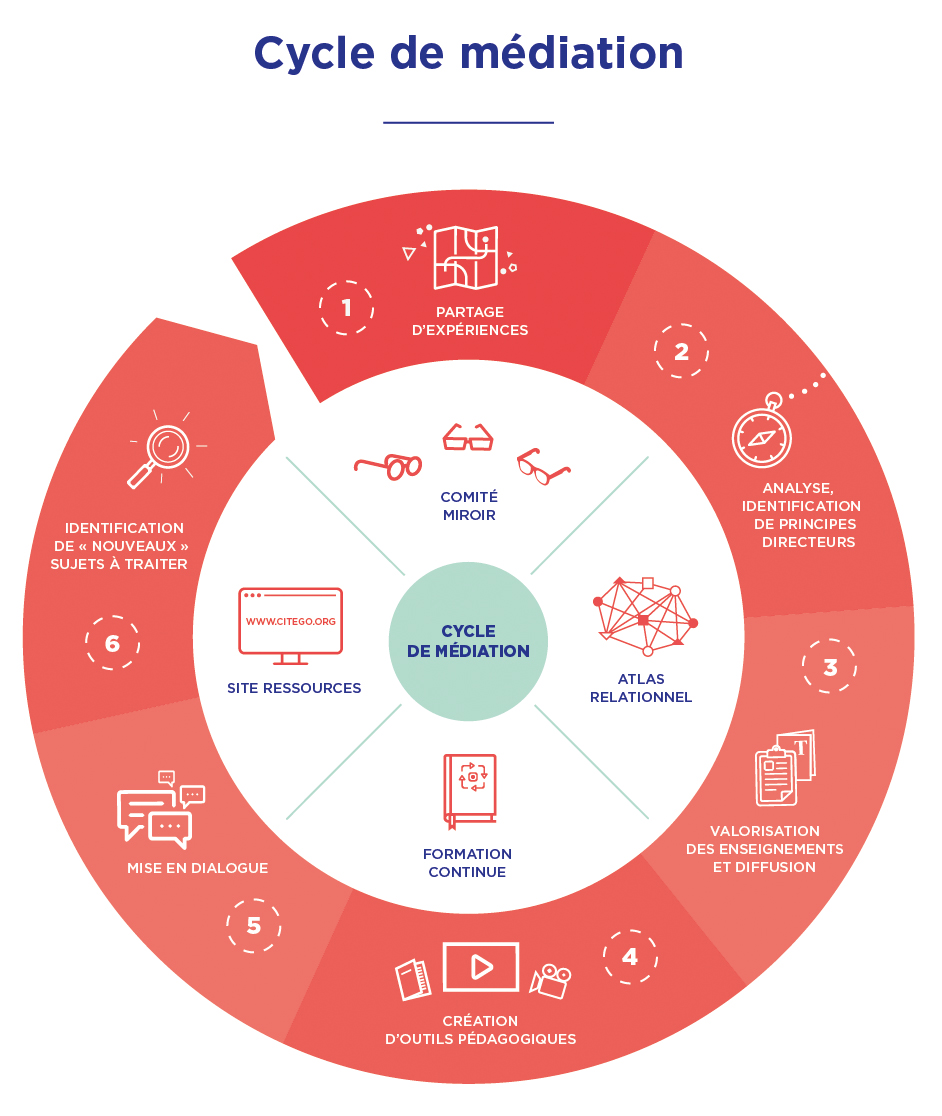 The 'mediation cycle' is a good illustration of this 'from practices to practices' movement that allows territorial actors to produce a collective understanding of the principles that are the foundation of change management, and that make the transition to sustainable societies a reality.
The stages of this cycle form the basis of our modes of action:
Collect and compare innovative practices: theme-based dossiers with a mirror committee as a vector for the capitalisation of experience.
CITEGO supports the capitalisation of experience based on innovative practices. Capitalisation is neither an evaluation nor documentation. Its goal is to allow actors in the experience to (i) understand what they are doing/have done by stating it formally, (ii) examine this experience, along with peers, to identify what could be useful for others, (iii) produce new knowledge.
One important goal of support for capitalisation of experience is the production of theme-based dossiers to enrich the resources site. Writing is itself an important phase in the actors' reflexivity process, as it helps them grasp what has transpired, to understand the trajectory of change and identify the principles underlyng their experiences.
Depending on the specific case, CITEGO provides methodological support, an outside opinion, an innovative viewpoint, contradiction (to stimulate more indepth reflection) or help in writing documents. The goal is to confront experiences and thereby identify their shared guiding principles, despite—or sometimes because of—the diversity of contexts.
One instrument in this capitalisation is the mirror committee, which brings together various types of expertise throughout the production process, to help actors examine issues and take a wider view.
Showcase experience: resources on the site are indexed with the relational atlas
The resources site provides a showcase for the richness of experience acquired in various areas related to territorial transition and governance. It can be seen as a living, interactive and continuously updated dictionary that allows users to contribute content/knowledge, link it to other subjects and create new content.
As a compiler and organiser of all the documentary resources available, in all their richness and diversity, the resources site is a visual and technical demonstration of the elimination of barriers. All the documents made available are indexed by the relational atlas. A digital tool at the service of semantic mapping, the relational atlas makes it possible to 'pull the threads' of actors, themes and means of action—to bring them together, and to see where they lead.
Partnerships developed around the capitalisation of experience enable the production of content that can enrich atlas entries and thus the resources site.
One of CITEGO's main goals is to participate in the development of knowledge from a position as far upstream as possible in its production, to facilitate its inclusion in the atlas.
Grasp and manage territories differently: construction of local maps
The creation of a local map (=customised relational atlas) allows CITEGO to support territorial actors as they seek to better understand their territory and experience and how it relates to theoretical knowledge, and thus to participate in its implementation. The mapping tool allows actors to visualise, at different stages of the project, the challenges and issues that arise, so that they can then construct action scenarios.
With this in mind, CITEGO works with partners to construct local maps based on their issues, determining with them what components to include and what angles of approach to use in examining these issues, in order to identify connections pertinent to their action.
Create dialogue: continuous training
CITEGO develops training systems including massive open online courses (MOOC) with the goal of creating learning communities and developing capacities for ongoing collective learning.
Special care is taken to place future and new professionals in a position to develop their capacity to mobilise knowledge in practical situations and their reflexivity as soon as possible. CITEGO offers support for situations where knowledge 'is in the making', which differ from the usual 'transmission' situations.